By Calvin Cottar on August 21, 2022 in Adventure travel, Africa, Botswana, Burundi, Kenya, Leisure travel, Mozambique, Namibia, Regions, Rwanda, South Africa, Specialized travel, Tanzania, Uganda, Zambia, Zimbabwe
Thousands and thousands of hooves thunder across the open savannah plains as mega-herds of wildebeest search for greener pastures; a desert turns into an aquatic playground where elephants swim in the lagoons and packs of wild dogs hunt on the grassy islands; dormant volcanoes covered in emerald green forests are home to the world's most endangered primate species. All of these completely different sights, sounds and scenes (and many more) can be found on one spectacular continent: Africa.
Things seem to change before your eyes as you travel through Africa, immersing yourself in diverse landscapes and encountering fascinating wildlife and rich cultural heritage. The two main safari regions are East Africa and Southern Africa, and each holds its own unique natural and cultural treasures. Until you know what these main differences are and which ones interest you the most, choosing where to go on safari is an almost impossible task.
These are the three most important comparisons that will get you started thinking about which area will be the perfect safari match for you!
Landscape and climate
East Africa is made up of Kenya, Tanzania, Zanzibar, Uganda, Rwanda and Burundi, although some consider the latter three to be Central Africa. The region has magnificent landscapes such as the vast and rich ecosystem of the Maasai Mara in Kenya, the snow-capped Mount Kilimanjaro and the Serengeti plains in Tanzania, the montane rainforests of Uganda and Rwanda. Southern Africa includes South Africa, Zambia, Zimbabwe, Botswana, Namibia and Mozambique, with diverse landscapes scattered across them. Botswana's Okavango Delta wetland sits along the semi-arid Kalahari Desert, Victoria Falls forms a natural border between Zimbabwe and Zambia, and Kruger is South Africa's famous Big 5 National Park. South.
Weather is another distinguishing factor that can have a significant impact on the safari experience. In East Africa, October is usually the start of the "short rains" which can continue until December. These are short showers that break out in the late afternoon, while the "long rains" of April and May are heavier showers. In southern Africa, tropical storms bring the general rains between November and March, although there are some variations between countries. From May to August, both regions experience cooler weather during the cooler months in both regions. Temperatures are generally more or less the same throughout the year, with May to August being the coolest months for both regions.
---
IMPORTANT NOTICE:
If you are reading this article anywhere other than A Luxury Travel Blog, chances are this content was stolen without permission.
Please note the web address above and contact A Luxury Travel Blog to let them know about this issue.
Thank you for your help in the fight against content theft.
---
Wildlife diversity and density
Most of Africa's popular wildlife, including the iconic Big 5 (elephant, buffalo, leopard, lion and rhino), can be spotted in its eastern and southern parts, although there are several species of birds and a few mammal species endemic to certain regional areas. The comparison to be made between the two regions does not relate so much to What can be seen, but rather How many of something you are likely to see.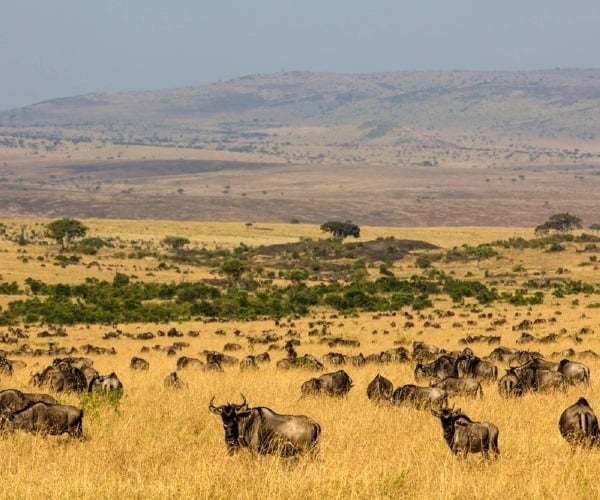 East Africa is famous for its massive concentrations of wild animals able to move freely and follow migratory patterns through unfenced but still protected wild areas. Thanks to this high density of wildlife and open wild spaces, game viewing on a traditional safari (not primate tracking) is considered excellent all year round. This is best characterized in the savannah plains of the Maasai Mara and Serengeti National Parks during the Great Wildebeest Migration. It is an incredible animal spectacle, the size of which is not seen anywhere else in Africa.
Overall, you won't see such large numbers of game in Southern Africa. In Botswana, however, you'll find huge elephant populations in Chobe National Park, and the zebra migration between Chobe and the Nxai Pan is Africa's longest mammal migration. South Africa's Kruger National Park and its private reserves are considered prime Big 5 territory and daily sightings are frequent. The best time for a Southern African safari is during the dry winter season between May and October as the vegetation thins out and animals stay near waterholes.
Safari activities
Game drives and guided bush walks are an integral part of the East and Southern Africa safari experience. The biggest difference between the 4×4 safari vehicles used in the two regions is that those used in East African safaris have a roof. Three to four rows of tiered seating and open vehicles are generally standard for game drives in both regions, although variations are always possible, so it is important to ask the tour operator or lodge in advance.
The "sky safari" is very much associated with safaris in East Africa, and contemplating the Maasai Mara or the Serengeti from a hot air balloon is a unique and unforgettable experience. Water safaris like mokoro rides along the canals of the Okavango Delta or sunset boat cruises along the Zambezi River are the hallmarks of a Southern African safari.
The "best place for a safari" depends on what you want to see and experience during the safari. Understanding these regional differences will therefore help you find the destination that will make your wildest safari dreams come true!
Calvin Cottar is director and owner of Cottar's 1920s Safaris. Cottar's 1920s Safaris is an award-winning luxury 1920s safari camp and private bush villa located in the famous "seventh" natural wonder of the world, the Maasai Mara in Kenya, and owned and operated by the oldest established safari family and continues in Africa.
If you would like to be a guest blogger on A Luxury Travel Blog to raise your profile, please contact us.